Hello to all tabletop wargamers and modeling fans!
Here are our latest releases: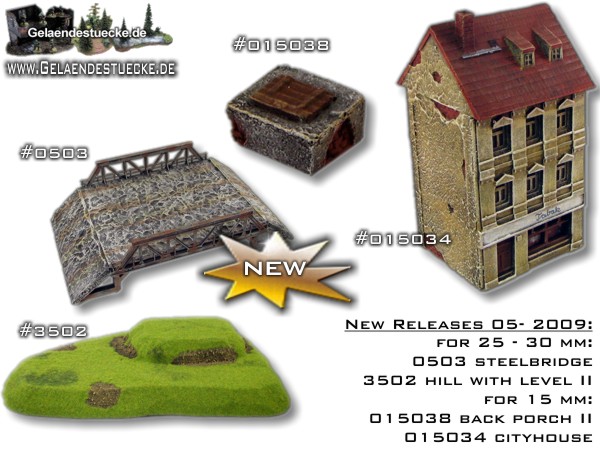 Scenery (ready-to-play):
25-30mm:
Steel Bridge €29.95 EUR
Hill with Levels II €17.95 EUR
15mm:
City House €39.95 EUR
Back Porch II €1.95 EUR
All of our scenery is handmade, hand-painted, ready-to-play, and packed in cartons.
You receive further information on our webpage:
www.Gelaendestuecke.de
or www.esloterrain.com
If you have questions, contact us or our distributors, please.
Please don't forget: Some items of our 15mm range are now available in painted and primed versions. In the new shop system, you can see prices for both versions. At the moment, orders for painted 15mm exceed orders for primed. We would make this option available for other ranges, but right now it is not being used enough.
Thanks for looking!
http://www.gelaendestuecke.de/news/newreleasesmay09.jpg