I didn't quite know where to start as I have acquired quite a few models in a very short space of time. I decided to start with my favourite Circle model and coincidently the leader.
Kromac.(human form)
I wanted my circle force to based in a swampy forest, so with this in mind I set about making the base.
WIP shot 1
I select my main piece for the base, and set about modifying it to suit the pose I was going to give Kromac (more on that later)
For this I used a tree stump from Antenociti's Workshop. Added a little greenstuff, and its done.
WIP shots 2,3,4,5
I then cut part of the base away, and stuck a bit of the blister pack on the bottom. This will later hold the water in place.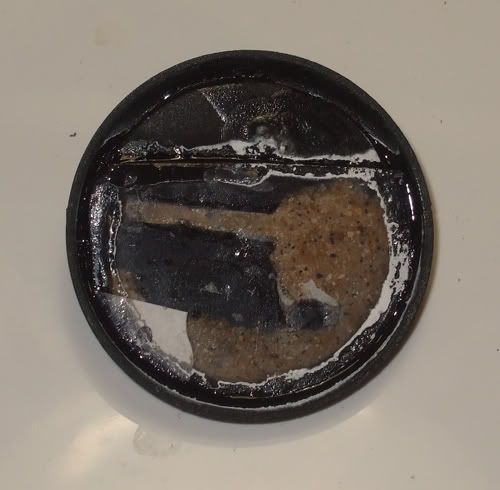 Top shot
I then cut up come pins to make mushrooms with and added a little greenstuff.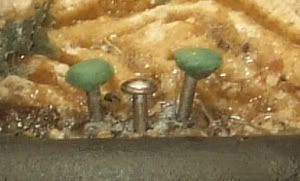 WIP shot 6
Finally I added some fungus to the edge of the tree.
I wanted to do some more WIP shots, showing different stages of painting, but my cameras' batteries died.
[pagebreak]
WIP 7, 8
After all the pieces were in place I painted the base and added some static grass
And Real water©. (If you want to know any colours just ask).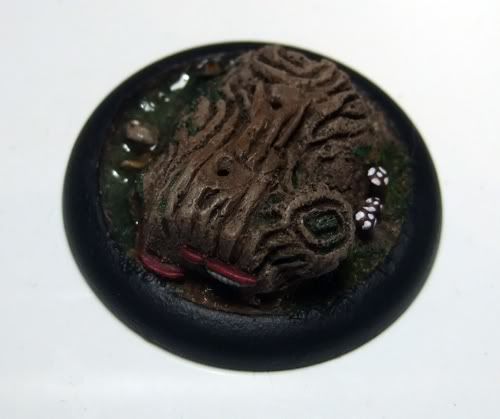 Some of the highlights don't seem to have come out in the pictures, but they are there…honest.
Now to bring Kromac into the mix.
Although I really like his model, it just seemed to me that he didn't say 'I'm hard'!
So with this I had the idea to do a minor adjustment. I wanted to make more a feature of his axes, well at lest one of them! So out came the greenstuff again. I put him arm roughly into the position I wanted it, to gauge proportion. From this I could see that both parts had to be cut down slightly. This was done pinned and greenstuff was added and shaped.
WIP 9,10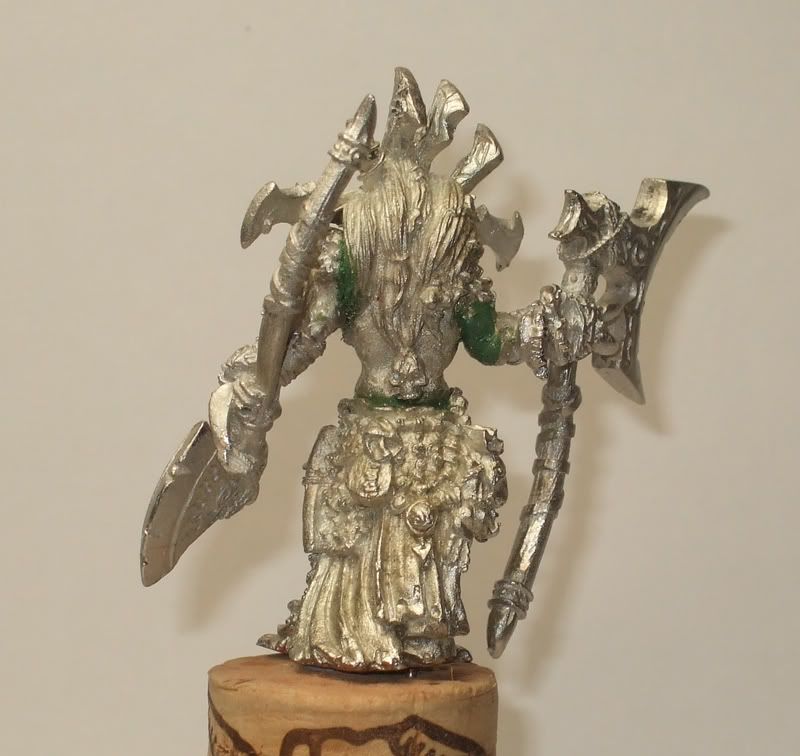 All that was need now was a bit of filling to do and he was offered up to the base to check for fitting and position.
WIP 11
I then removed Kromac, and undercoated him white. At this point I would like to add that when ever undercoating I always have a hairdryer ready so I can 'bake' the paint on. This will make it more durable to handling and help the subsequent layers get a better purchase on the model. I then stuck Kromac in place mounted it on a painting plinth (well a paint bottle) so I didn't have to touch Kromac, and selected my colours.
WIP 12
[pagebreak]
I started with a base of Burnt Umber I applied this over 3 thin layers, as to not 'swamp' the mini. Once I had a solid base I mixed in Flat Brown to a 50/50 mix and proceeded to cover up as much as the previous layer as possible. At this stage I painted the eyes. My original idea was to give him blue glowing eyes to show his power, but on such small eye slits it just didn't work, so the usual eye was given. I then did another two layers on the skin working upto pure Flat Brown, using these stages to start the highlights.
WIP 13
I then took some new Flat Brown and worked Saddle brown into it for another 2 layers working to Pure Saddle Brown. Although this stage was only 2 layers it took very well as Saddle Brown is quite close to Flat Brown.
WIP 14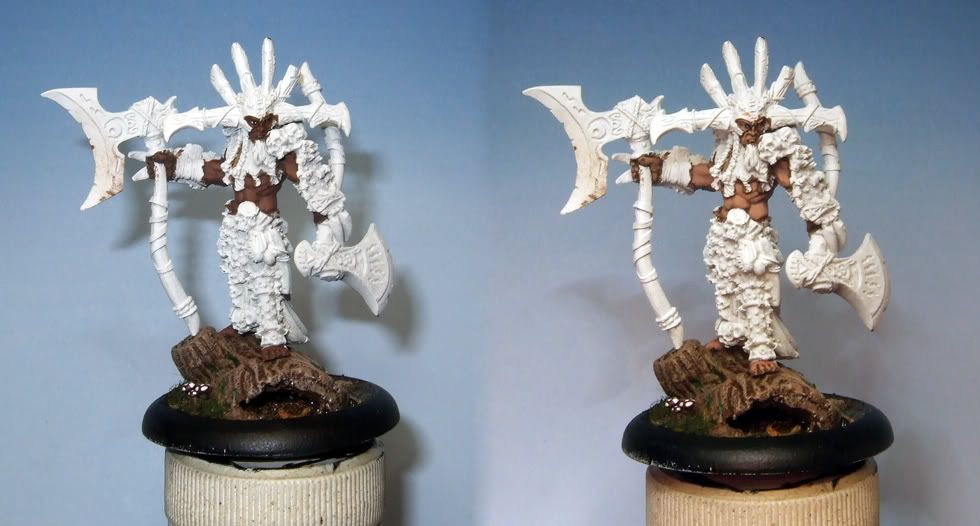 Again I took some new Saddle Brown and started to mix Flat Flesh into it for 3 layers. Once I reached about a 20/80 mix Saddle Brown to Flat Flesh I started to add Light Flesh for another 3 layers. Finally giving a few points to the skin here and there with pure light flesh, very diluted.
WIP15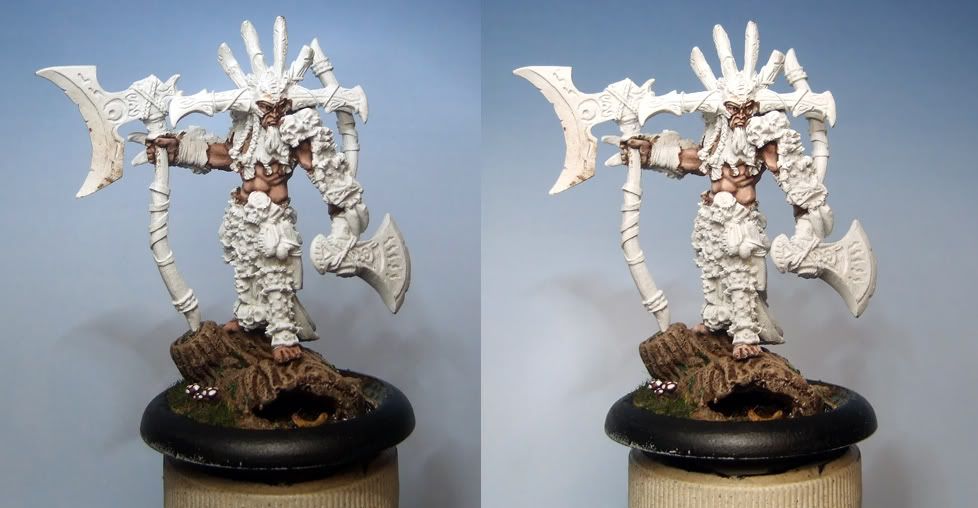 [pagebreak]
Next on the agenda are his robes.
These were given 2 thin base coats of Russian Uniform WWII. I then did a 50/50 mix of R/U and Black and painted in the rips, after I went back over with the basecoat to neaten things up. I then started to add German Cam Beige WWII to the mix.
WIP16
The German Cam Beige was mixed in over 5 layers to keep the blends smooth working all the way upto pure G/C/B.
WIP 17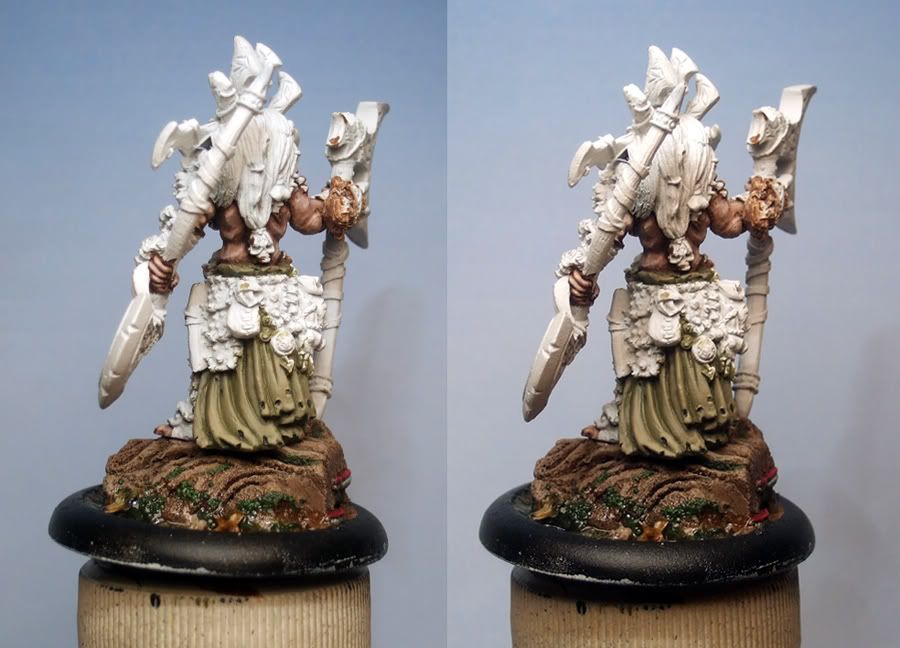 I then used some fresh G/C/B and added in some Buff. This was applied over 4 layers working upto pure buff, the last stage was diluted further and faint brush strokes were used to highlight the every edges of certain areas.
WIP 18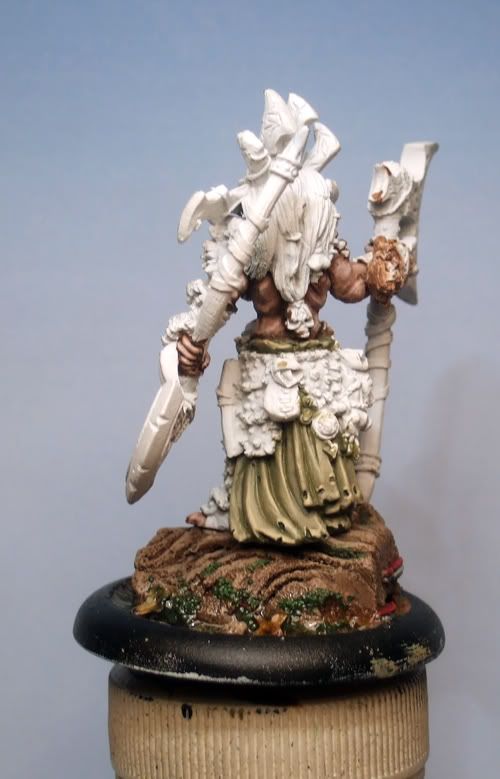 [pagebreak]
Next we will look at the armour plates. If I were to be honest these were the bits of the mini that I was least looking forward painting!
Anyway they must be done so here we go.
First these were given a couple of basecoats of German Cam Pale Brown. I then did a shadow with Chocolate brown before going back and tidying up the plates with G/C/P/B again.
WIP 19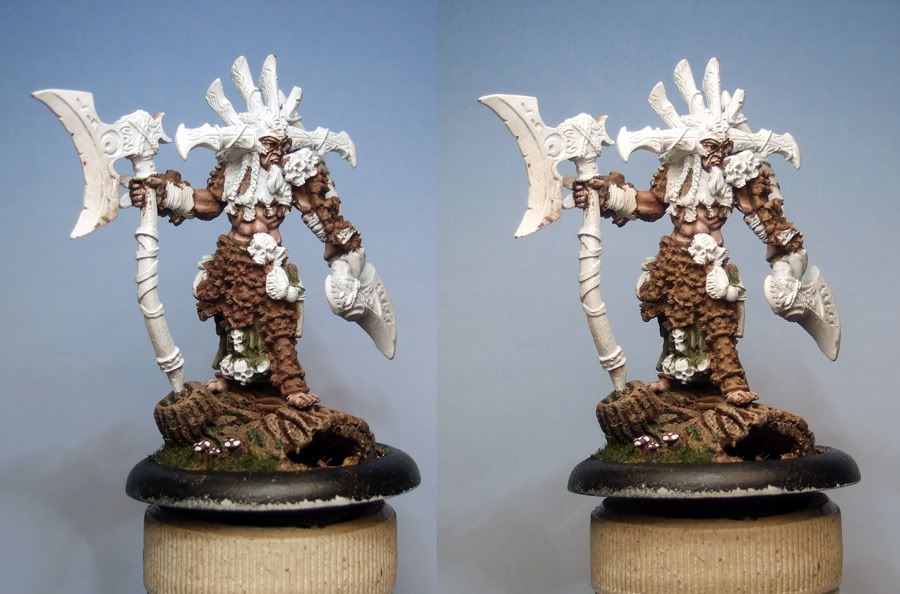 I then started mixing in Yellow Ochre for 3 layers to start the highlights. Not really knowing what to select next I mixed up various shades on a pallet, this is something I do quite often when I lose my train of thought, and need an idea of how something will look. After doing this I settled on using Buff, so this was added for another 3 layers. Lastly I used Pale sand for 2 layers.
WIP 20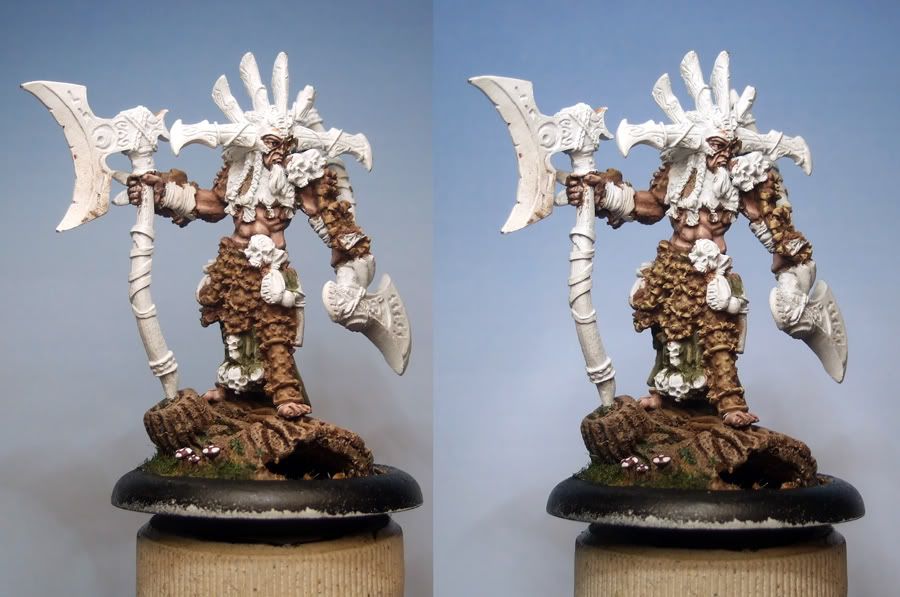 Next I moved onto the studs, I did consider leave a majority of these the same as the plates, but when I highlighted them as the rest of the plate, it just didn't look right. So I then went over everyone and black lined them. I won't waste time explaining how the NMM on these were done at this stage as they are simply just to small to show the different stages, but suffice to say Basalt Grey, Smoke and Flat Aluminium were used. When I do Dusk and Dawn I will explain with more clarity.
WIP 21
[pagebreak]The next parts to be tackled were the head cowl and arm leathers.
Firstly I based the areas Leather brown. I gave the areas 3 coats of this to get a good even colour. I also based straight over the ropes on the arm leathers with this to give them their shadow for later on.
WIP 22
Next I started to mix in Cork Brown. I did this over 5 layers, going all the way up to pure C/B.
WIP 23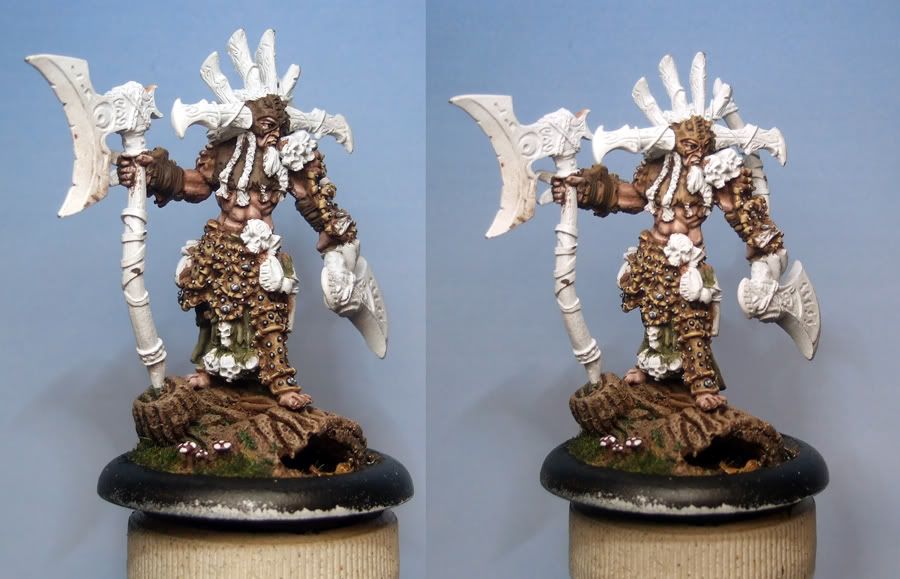 Lastly I mixed in Pale Sand into the pure C/B. This was done over 3 layers, the last being very diluted and 'dotted' to the extremities of the areas being worked on.
WIP 24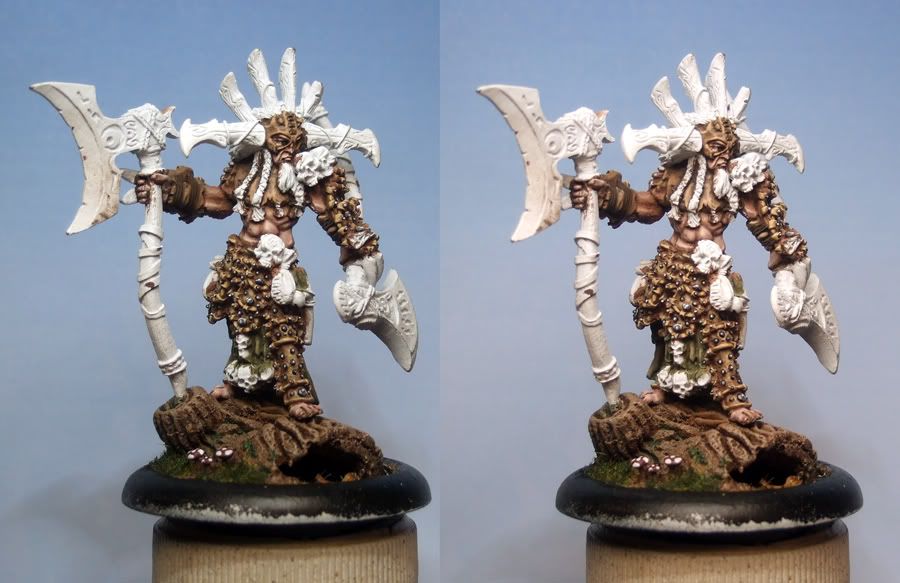 I would just like to point out at this time, like other small details I haven't done the stitching on the cowl, as I will be doing the small details last, as numerous ones require painting the same way[pagebreak]
Next I am moving onto the hair. This I wanted to be…er…. RAA! I wanted a brighter red than the studio job, as I wanted it to reflect his rage that he feels for everyone (fluff tie in).
With this in mind I chose a basecoat of Amarantha Red. I did this over 2 coats; I also mixed in some clear washing up liquid to help the paint flow into the crevasses. Once dry I mixed up some Red Leather, washing up liquid and Glaze Medium, this was essentially a wash to give some depth to the hair.
WIP 25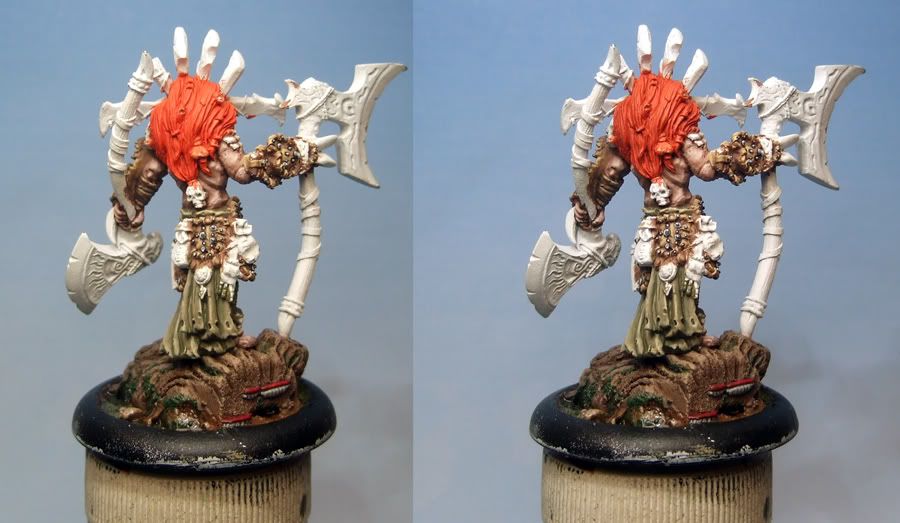 Once this stage was completely dry I went back over the strands with Amarantha Red to start building up the colour layers. I then gave a liberal 'wet brush' of Orange Red, I then started to mix in Flat Yellow, and this was done over 5 layers.
WIP 26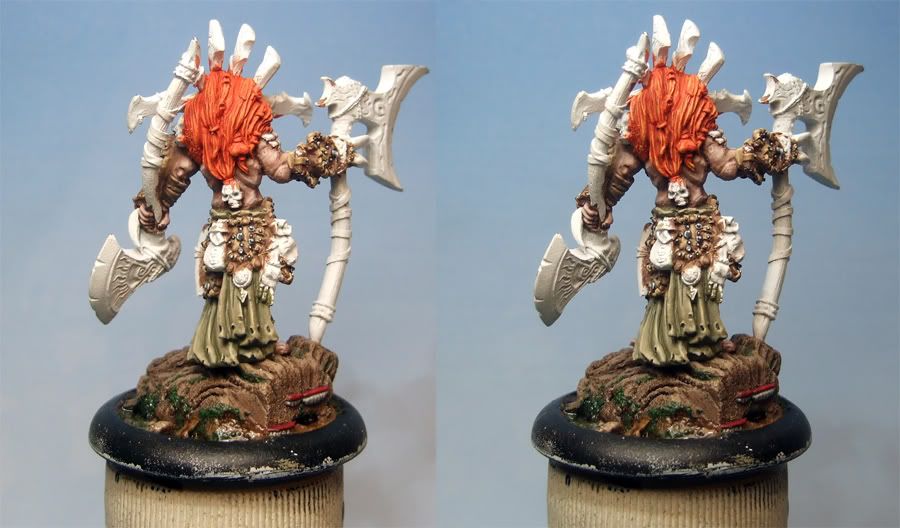 I didn't highlight evenly across the hair as I wanted to get different tones to keep it as natural as possible. I then did a final layer mixing in Golden Yellow. After this I went back and added some shadow with Amarantha Red, and a little deep shadow with Flat Brown, both of these were very diluted and also had washing up liquid added.
WIP 27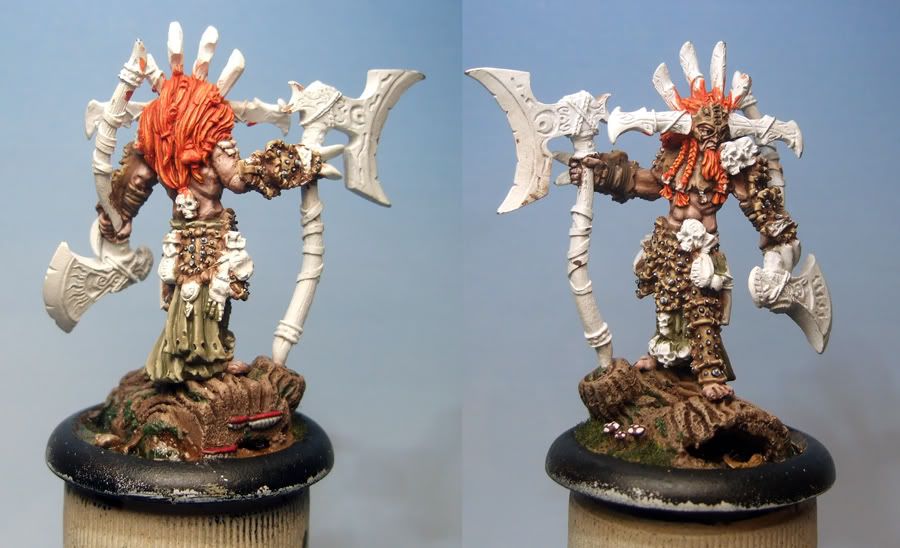 [pagebreak]
Right on to the Axe next. I seem to have made good progress on this bit getting a bit of a painting bug at the time. Instead of separate pics for each stage, I have montaged each section.
First the Wood and Wraps.
The whole area was base coated Chocolate Brown, for 2 coats. Then on the wood only, I added Beige Brown for 6 layers, I painted this in downward stripes to keep the wood grain, working upto pure Beige Brown. Finally I added Beige and applied 2 more layers. The axe wraps were Based Flat Brown over the previous Chocolate Brown; I used the Chocolate Brown as an outline, instead of black. I then simply added 4 highlight layers adding Ivory to each stage. Finally one pure Ivory highlight on some of the edges of the wraps were added. Kromacs Foot wraps were done the same as the Axe Wraps.
WIP 28
Shoulder and Throat Guards.
These I wanted to be Gold So I repainted them White. I then gave them 3 base coats of Gold Brown. I then added Pale Sand for 6 layers, working upto pure Pale Sand. At this stage I stopped the highlights, leaving a yellow tinge to it, as remember Gold never reflects white only sheens of yellow, also it doesn't tarnish. I then went back and added a shadow with a very diluted mix of Flat Earth, this is essentially an ink.
WIP 29

Axe Head Plates
Next on the agenda were the Axe head plates. Staying away from pure metallic, but I still wanted a brass effect, as I like the studio colours for armour and his axe, so I thought if it's not broken don't fix it! So again with this in mind I started doing the sunken areas first. I would also like to point out that I did Kromacs armour at the same time, as it was going to use the same colours. Theses areas were based Flat Green. In first went the dark wash as I wanted them to appear bright, but not glowing, so Flat Green was in essences my shadow. I then mixed in Olive Green for 3 layers working up to pure olive Green, in such small areas the blending can be done quite quickly, so as you can see less layers are used. Lime Green was the added to the pure Olive Green for 2 layers up to pure Lime Green. Lastly White was added for 2 layers.
The plate was then base coated with 2 layers of Middlestone. I then started to add White; I did this over 7 layers to keep the transition smooth. I stopped just before I got to pure White, as I didn't want it quite that bright. I then mixed in a little Burnt umber to the original base colour with a little Glaze Medium, and diluted this heavily, and started to add a little shadow. I did this 3 times each time adding a little more Burnt Umber. Lastly I diluted some Blue Green and added some verdigre tarnishing. The scratch was simply painted on with some Burnt Umber and a faint white line was painted along the bottom to give the illusion of a deep scratch.
WIP 30

[pagebreak]Axe Hilts, Claws, and Bone Spikes
It seems like an eternity since I was last doing this. After a Rackham Lions commission, and a failed Salute entry, I thought I would come back to Kromac. Right down to business. I wanted to do 2 different types of bone on Kromac, the studio version has a sort of grey/white bone, which I really like, but didn't want to do all the bone that way, so I went with a more traditional bone recipe for theses pieces. So over the white undercoat, I thinned down some Beige Brown, and gave the areas 3 coats to get a solid colour, like the hair I mixed in some washing up liquid, to sink into the recesses, the first pic shows the first layer. I find it better to do it like this, as the paint remains smoother. To get a mid tone I worked Buff into a new batch of the base colour. I used some new Beige brown, as I didn't want the washing up liquids properties, so as to keep the paint on 'top' of the previous layer. I did this over 6 layers, not painting the recesses, I must admit on the smaller bone pieces such as the ones in his arm, and especially the 2 on his head cowl, I cut down the layers as these just wouldn't show, so would be a waste of time. Once I had worked up to pure Buff, I added only a touch of Ivory, to brush over the top. I really like doing these close ups, as it shows every imperfection, plus you can 'really' see the paintjob.
WIP 31

Axe Blades, and Cowl Coins
Back already! After looking at what should be done next, I decided to move onto the axe blades. I have also noticed something on the base I want to change, but that will be something to come back to later. So I painted some thinned down Dark Sea Grey, this took 3 layers to keep it smooth. To this I simply added Flat Aluminium for 6 layers, I did this using the 2 brush method see here for the technique
http://www.youtube.com/watch?v=QkkzU6GqNpg
I then added 2 more layers mixing in white, again using the same brush technique. I then added a little shadowing, using a very diluted glaze of Flat Brown, this was done for 3 layers. I then added a final touch by adding some scratches to the blades.
WIP 32

Ropes, Bags, and Cowl/Bags Stitching
The arm ropes had already been base coated Chocolate brown as that was the bas for the arm leathers. So the other parts got the same treatment. 2 layers later and a nice solid basecoat was attained. I then selected British Uniform which was added, this was done for 4 layers, the ropes were just brushed lightly with the side of the brush, to pick out each raised area. Once pure B/U was reached I then worked in Beige for another 2 layers, just very lightly going over the edges facing the top on the ropes, and where the light would fall on the bags. I stopped here as I wanted the areas not to appear too shiny. The stitching was done very simply. Beige was painted over them, then they were given two passes adding White to the beige each time.
WIP 33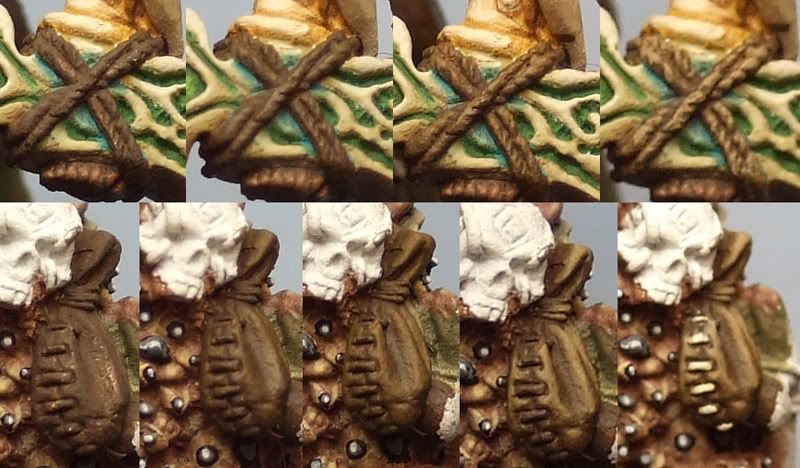 [pagebreak]
Base Rework
I have been looking at the base...Well it has been 10 months now
I just didn't like the base, it was something that just had to be changed, so with this in mind, I set about overhauling it.
I ground down the log I had, and used the basic shape as a frame work and made a new one from Green Stuff. I didn't like the deep groves in the bark, and wanted the stump broken exposing the old flesh of the tree hollow. I added some more fungus, using an old blister sponge. Everything was then undercoated Black. The tree flesh was based German Cam Medium. Buff was added for 5 layers up to pure Buff. The bark was based Chocolate Brown. I used Flat Earth for 4 layers, then Beige Brown plus Glaze Medium and a little Beige to give subtle highlights. I then shadowed with straight Black and Glaze Medium, very diluted, working the paint deeper into the depths of the shadows, I did this 4 times.
WIP34
Olive Grey was diluted and worked randomly around the tree, to give some algae appearance on the bark. The grass was done with a 50/50 mix of Flat Green and Leather Brown. Beige was added for 2 layers and flicked across the grass very lightly, then one final flick of pure Beige, but only in the areas where the light would catch the grass. I then painted the mushrooms; these were given a base of Orange Red, and highlighted with Buff for 4 layers, giving a final strike of pure Buff. I then as a final touch re mixed the grass colours and randomly dabbed the mix in certain areas of the flesh, to stop it looking to new and clean. one more dab, with a little more Flat Green in and I was happy. Finally I gave the whole base a dusting with Mig pigment European Earth. And it was finished.
WIP 35
I think it is a big improvement.
[pagebreak]
Details
I will start with the skulls that are left, and head dress.
I wanted these to look different, not only from the other bone on the mini, but each other. This was done by simply
using the same formula, just taking it further on the head dress.
I started with Black Brown. I gave this a nice solid coverage with a little Matt Medium and washing up liquid added, this helped it settle into the crevasse. To this I added a little Cobra Leather(VGC) for the first few highlights, this gives the skulls a slight green tinge. I did this for 3 layers. I then started adding Graveyard Earth(GW) for 5 layers, I did this up to pure G/E, I then added a little Buff, for the final highlights on the skulls. For the head dress I followed the previous methods, obviously at the same time, but the buff stage was carried on for 3 stages. I then added some Ivory to the mix, and ran a few highlights at the top edge of the bone headdress. Lastly I mixed up some G/E and Glaze Medium, and gave 4 glazes to the underside of the headdress, just to deepen the shadows a little. The ropes holding the skulls and Headdress in place were based Black, then re-based Leather Brown, I then worked Cork Brown into the mix, up to pure C/B, then added 2 stages with buff added.
WIP 36
I did the edging around the back gems, these were done in silver, to the same technique as Dusk and Dawns blades. The larger one on the back was done as the NMM gold, as was the ringlets on Kromacs beard. The gems were then based Black Green. I then mixed in Flat Green for 2 layers, the 2nd being pure F/G. I then mixed in Deep Yellow for another 2 layers, the 2nd being pure Flat Yellow. I then added a couple of glazes mixing Flat Green and Glaze Medium. One this was dry I added the white light glints.
WIP 37

The large gem on the back looks like a piece of rock on the studio version. I wanted to make it a piece of amber, as I felt this would fit in nicely with the theme of the circle army. Firstly a shadow was painted in using Cavalry Brown, along the bottom edge. I then mixed Transparent Orange, Transparent Yellow 50/50, with some Glaze Medium, and diluted heavily. I then glazed the gem with this mix 10 times, using the hairdryer in between each layer. This gave a nice deep colour. I then added in a couple of cracks, with the Cavalry Brown. I then mixed some T/Y with G/M and again diluted heavily. I then glazed the amber another 8 times, again blow drying in between. I did the second mix for another 8 layers, with gave depth to the cracks. I also used this mix to glaze the top of the triangle dangling down underneath the amber to simulate the light passing through and reflecting off. I then simply added 3 white glints and it's done.
WIP 38
Lastly I added a few fallen leaves to the base, and painted the base rim Black.
Done!
Base Close Up
Before I show the mini, here is a close-up of the base.
And the finished mini.
Hope you enjoyed this and found it useful?If you did I would appreciate it if you give a vote for the finished mini.You can find him here.
http://www.coolminiornot.com/214494
Thanks.Luke