materiales:
-alambres de varios grosores, incluso cable de muchos hilos....
-cola blanca
-papel higienico
-algo para hacer las copas yo he utilizado una especie de esponja no se su nombre ya que en la bolsa no lo ponia


materials:
barium
-wire
thickness,
wire
even
many threads
....
white
-tail
-
toilet paper
-
something to make
the cups
I've used
a sponge
and
his name
is not
in the bag
do not
put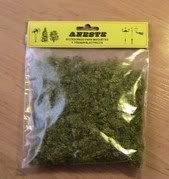 PASO 1
coger los alambres y enrollarlos hasta la mitad, para diferenciar la zona del tronco y de las ramas.luego empezar a colocar las ramas a vuestro gusto enrollado algunos alambres entre si dejando otros sueltos..(dejad abajo unos alambres de los mas gruesos que nos ayudaran a que el arbol se mantenga de pie y haran las veces de raices)

STEP 1
take the wires and roll halfway, to differentiate the area of ​​the trunk and start placing ramas.luego branches to your liking wrappedsome wires loose each other .. leaving (let down the wires thicker than we help keep the tree stand and will serve as roots)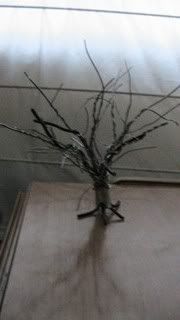 cuando ya este a vuestro gusto dar una capa de cola blanca a todas las ramas para que no se separen y de una superficie uniforme.darle tambien a los alambres de la base pues seran las raices y tambien habra que pintarlo. esta capa de cola ayudara tambien a la hora de pintarlo. El tronco recubrirlo con cola balanca y papel higienico. para esto recomiendo dar una capa gruesa de cola lar un par de vueltas de papel y despues aplicar agua con cola blanca...


When you are
to your taste
to
a layer of
white glue
to all branches
that
are not separated
and area
also
uniforme.darle
the wires
from the base
because
the roots and
will
also need to
paint it.
this
layer of glue
will also help
when
painting.
The trunk
balance and
cover it
with
toilet paper
tail
.
to
recommend giving
it
a thick layer
of glue
a couple of laps
lar
paper and
then apply
white glue
water
otra opción es recubrir toda la estructura con pasta de relieve dandola a pinceladas de arriba a abajo


another option
is to coat
the entire structure with
giving
relief
to
paste
up and down
strokes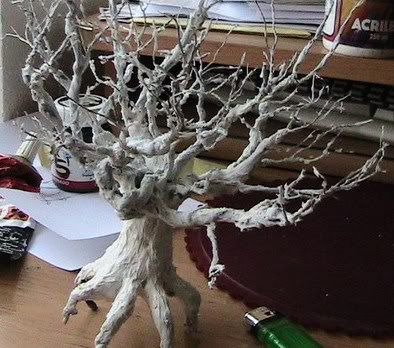 te permite ademas dar un poco mas de consistencia a las raices

also lets you
give a little
more
consistency
to the roots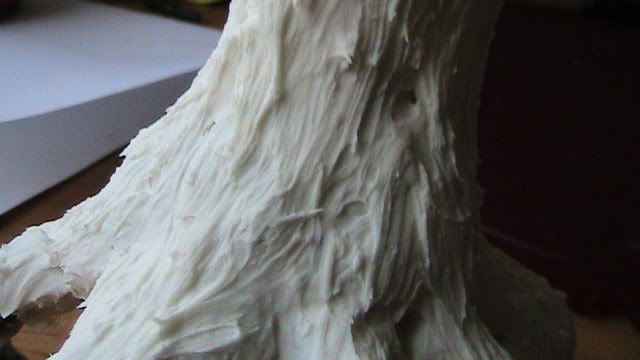 despues pintais el arbol. aqui no os doy ninguna recomendadcion pues soy un mal pintor....

pintais
after
the tree.
here
will not give you
any advice
because I am
a bad painter
....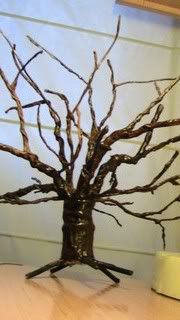 en este punto si sois no muertos o quereis un bosque tetrico o invernal pues ya estaria.

at this point if
you are
not
dead
or you want
a
gloomy
forest
or winter
because
he would be
.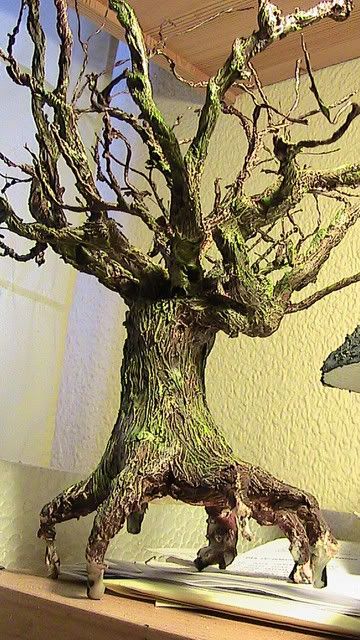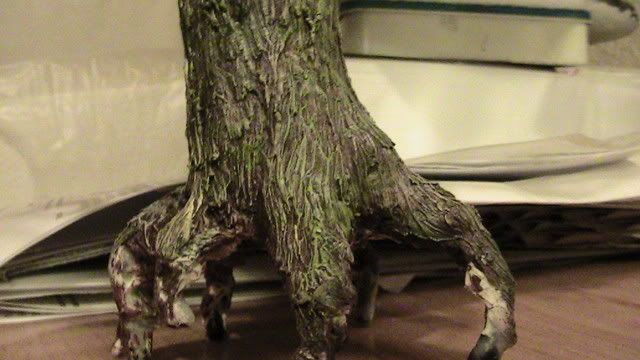 luego con un poco de imaginacion puedes modificar el tronco o la raiz por ejemplo insertandole unas driades o modelando con masilla las raices
then with a
little imagination you can
modify
the trunk or
root
, for example
by inserting a
putty
or modeling
Driades
roots
si quereis darle un poco mas de vida pues le pegamos un poco de follaje por las ramas. Al ser flexibles las podreis separar para trabajar mejor.
cuando termiles las colocais como mejor os venga.

if you want to
give
a little more
of life as
we hit
a bit
of foliage
around the bush.
As
ye can
separate
flexible
to work better.
when
the
colocais
termiles
come
as you see
.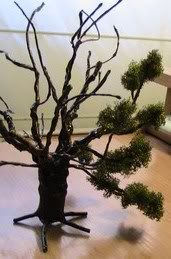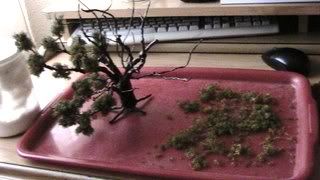 y ya estan lisros para ser metidos en cualquier escenografia. clavar las raices en la base para que sujete el arbol pero dejar una parte fuera para que se vean las raices.

and you
are
stuck in
MITL
for
any
scenery
.
nailing
the roots
at the base
to
hold the
tree
but leave
some
to be viewed
outside
the roots.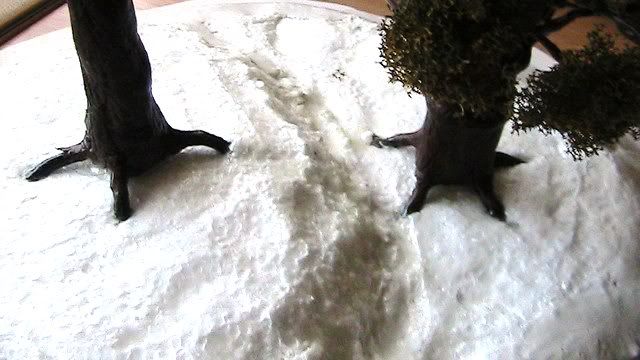 este es el modelo con las raices mejoradas y textura pasta restauradora

This
is the model with
improved
texture and
roots
restorative
pasta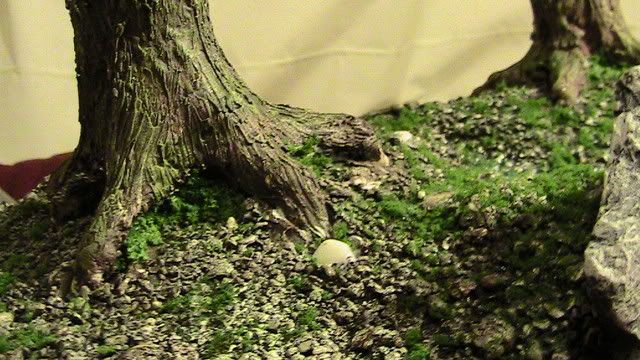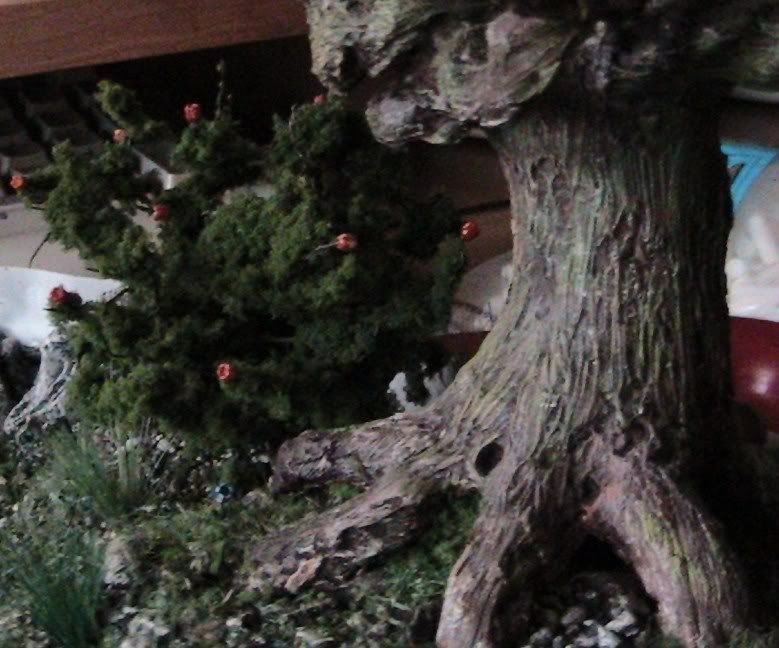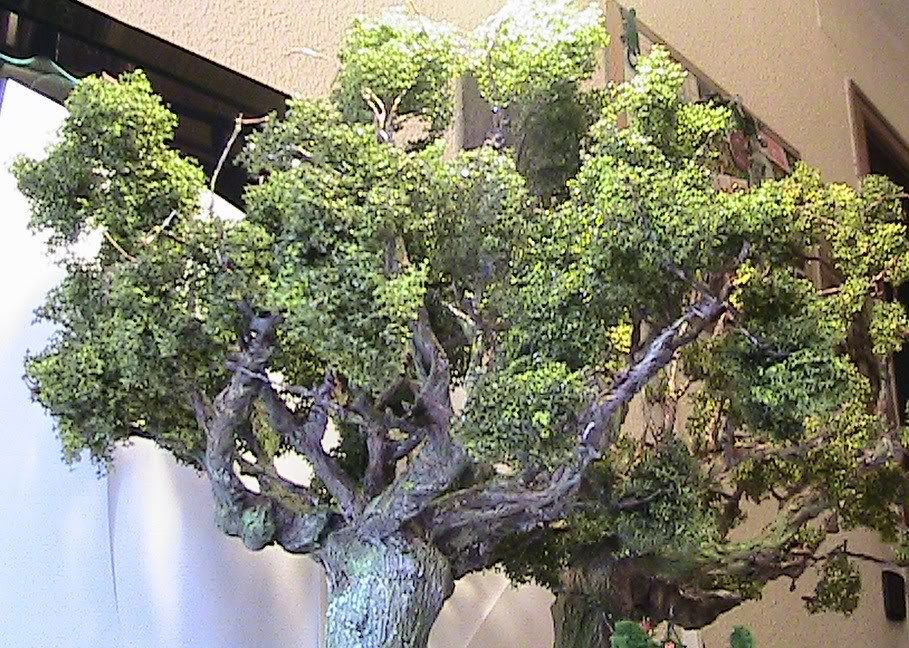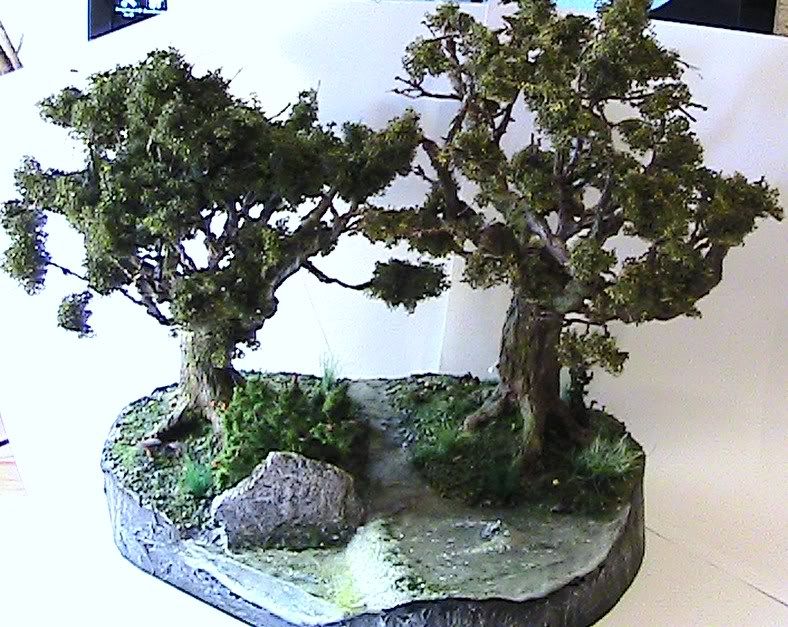 con la misma tecnica se pueden hacer arboles mas pequeños con troncos finos y retorcidos.

with the
same technique
can be made
smaller
trees
with
thin trunks
and twisted.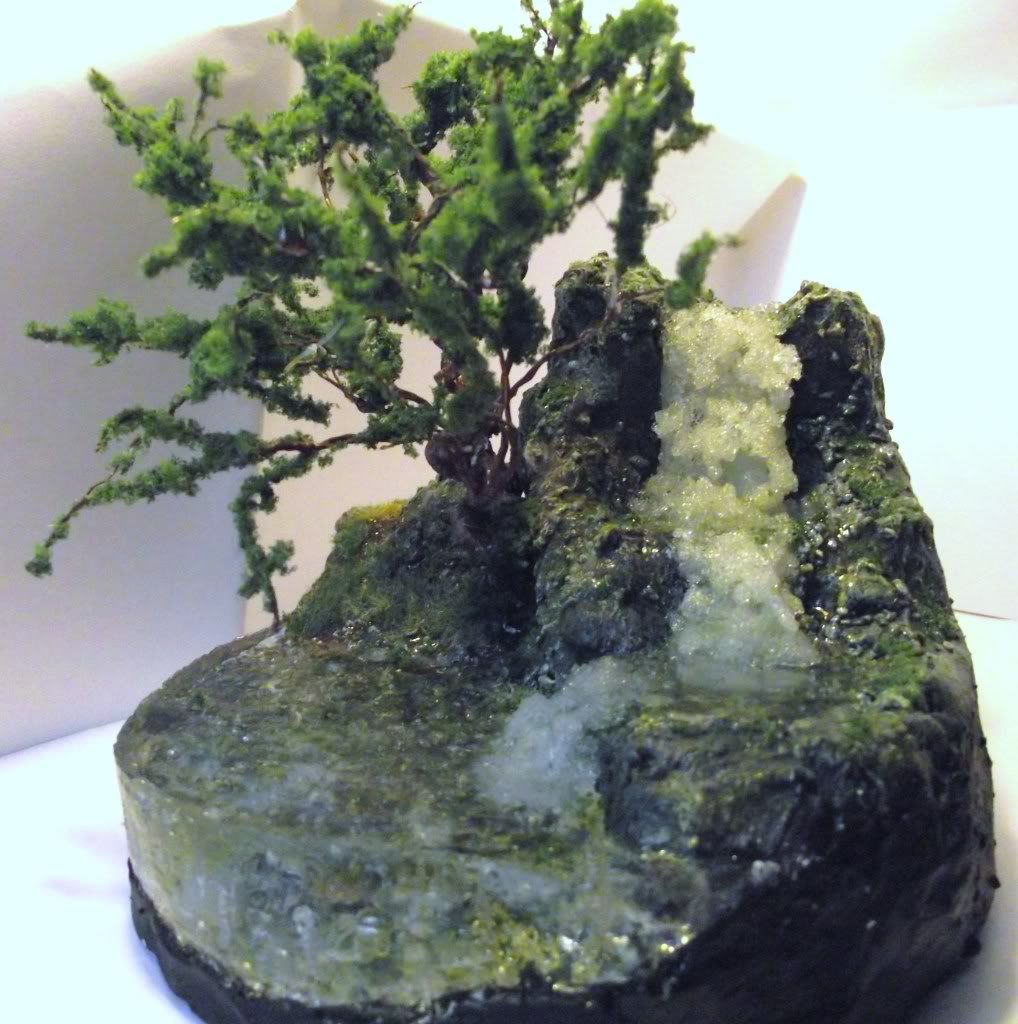 otra forma mas sencilla es con escobillas del WC el tronco se hace igual pero para la copa lo unico que hace falta es poner una escobilla pintarla de verde y ponerle follaje

another
easier way
is with
toilet
brushes
the trunk
is
the same but
for the cup
the only thing
needed is
to put a
paint
brush
and putting
green
foliage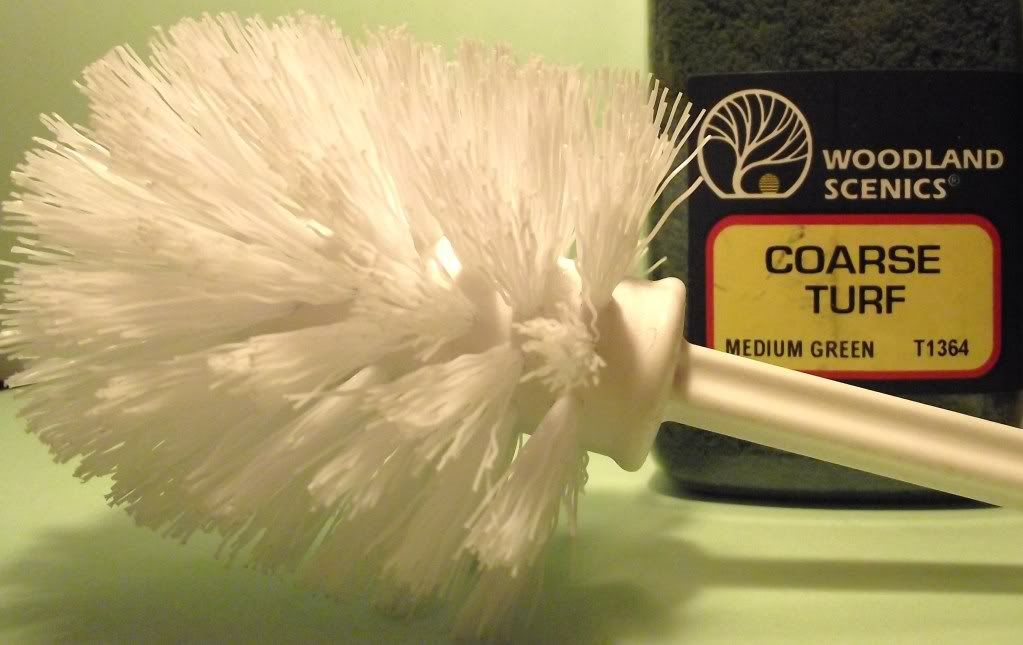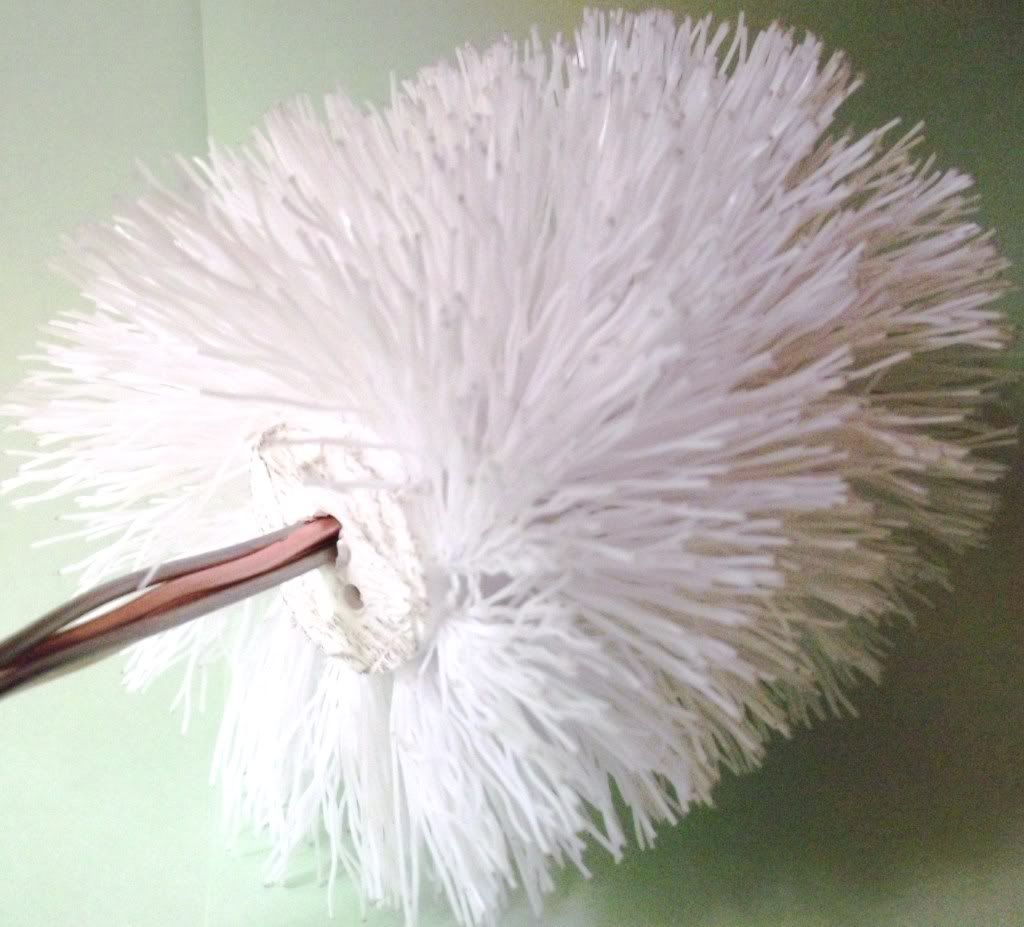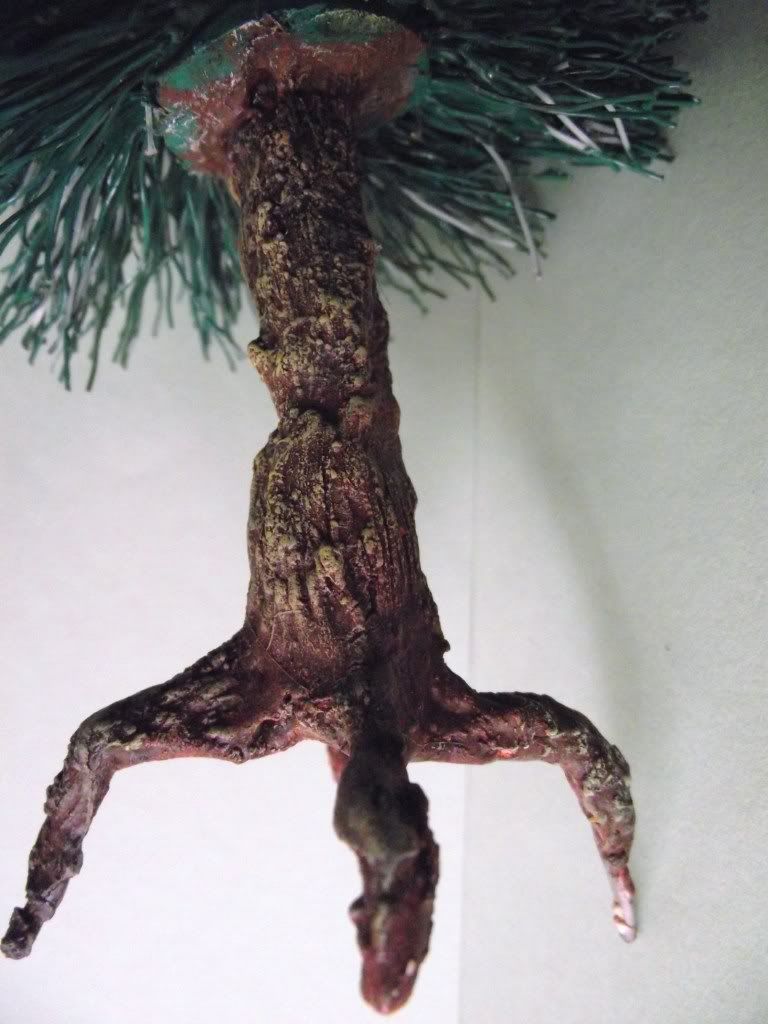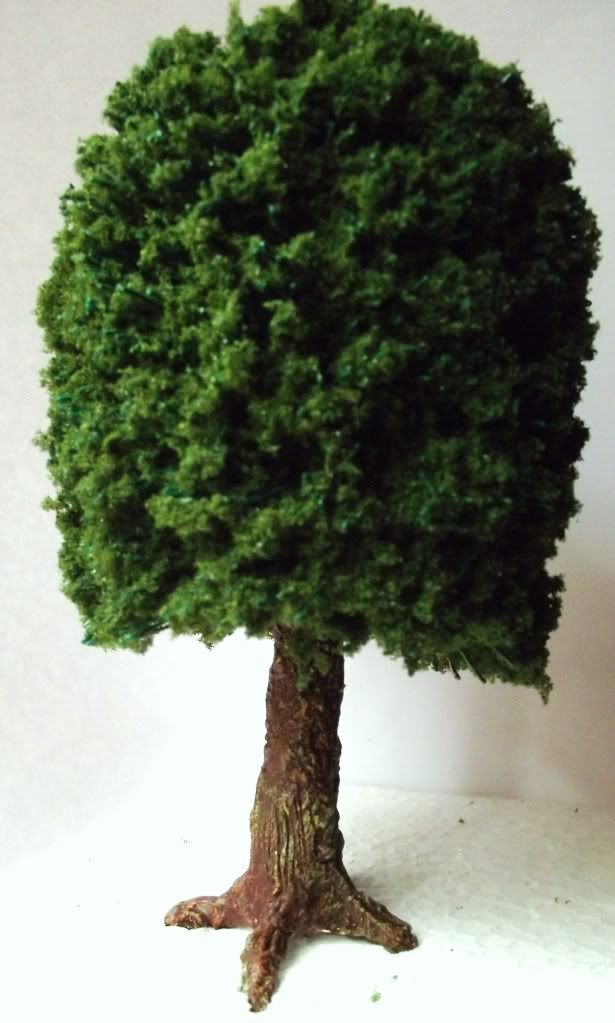 tambien se puede hacer la copa con esponja otro metodo facil y barato

You can
also
make the
glass
sponge
another
easy and inexpensive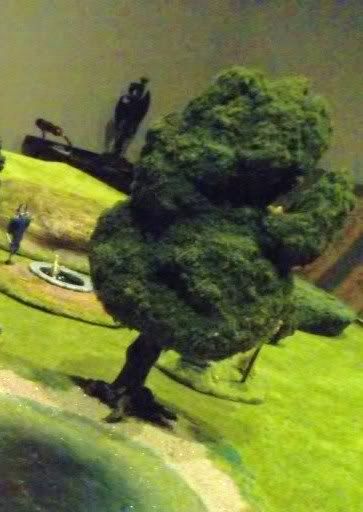 Esto no es mas que algunas formas de hacerlo lo importante en este hobby es utilizar la imaginación e intentar utilizar cualquier cosa que caiga en nuestras manos...
espero que os hay gustado...


This is
more than a few
ways to do
what is important in
this
hobby
is to use
your imagination
and try to
use anything
that falls into
our hands ...
I hope you
liked
there
...